10/25/17 Wallpaper update!!🎃
---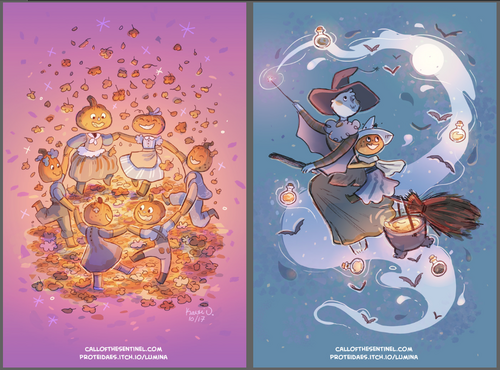 Hello, everyone!

It's been a year since I uploaded Lumina, and it's time for some updates 🎃🎃🎃 FIRST AND FOREMOST thank you so much to everyone who has supported this project. I've been absolutely overwhelmed by how many people this story touched and delighted -- that makes me so happy! l'm really glad you enjoyed it!!

NOW FOR UPDATES . . .

To better cushion transaction fees AND as a way to give something back to itch.io for providing such a great and easily accessible service, I've decided to increase the price of the 57-page PDF from $1 to $3 this year. Unfortunately, this does mean $1 purchases will no longer have access to the PDF download link ... Sorry about that!! I hope you'll understand that I still appreciate your support and that $3 is still a fair price for the content!
Lumina is still free-to-read in your browser. If you need to update your payment to re-access the PDF, please use the "support this comic" links in Lumina's product page. Thank you!!
To celebrate Lumina's 1 yeah anniversary, $1 donations will now receive a special phone wallpaper pack, previewed in this post!! These illustrations are formatted as printable greeting cards, so please feel free to print them out and share some Halloween cheer! All previous donations should be able to access these files -- if they're not in your downloads page, please check Lumina's product page to get your goods!
I think that covers it! Thank you so much for reading my comic! I'm working on a new short story for release this winter -- I hope you'll enjoy that, too! :D