Call of the Sentinel PDF Archive
Call of the Sentinel is a pastoral fantasy adventure about two little monsters named Reggie and Emily.

Reggie, a pessimistic and cranky soul, just wants to sulk under his hill by the sea ... but cheerful and bubbly Emily has other plans!! Together, they explore a sprawling seaside coast, discover crumbling monuments, AND UNCOVER BURIED TREASURE!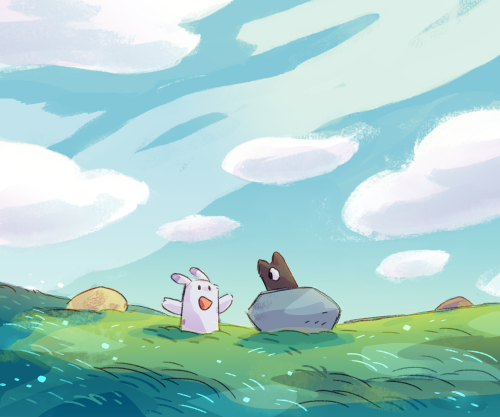 This comic was published online from 2014-2017. While I no longer plan to update this version of the story, you can relive Reggie and Emily's early day adventures any time you like ... and if you're a new reader, I hope you'll enjoy this little snapshot into a story that's very close to my heart.

* * *

Included in this archive are chapters 1-3 of Call of the Sentinel, as individual PDFs:
Chapter 1 - Pick Up Sticks (31 pgs)
Chapter 2 - Peek-A-Boo (106 pgs)
Chapter 3 - Knucklebones (108 pgs)
(please note: this comic is not optimized for mobile devices)

Download
Click download now to get access to the following files:
Comments
Log in with itch.io to leave a comment.
i hope ch' has pumpkin girl
and the witch girl(batty)
This is one of my favorite webcomics and it makes me so happy to be able to download them! Thank you so much for creating this wonder!

These are absolutely beautiful! Thank you.